Apps
at Oklahoma State University
Oklahoma State University is a modern land-grant system of interdisciplinary programs that prepares students for success and improves the lives of people in Oklahoma, the nation, and the world through integrated, high-quality teaching, research, and outreach. This mission is manifested in OSU's app offerings. From the OState app, built to help OSU students navigate the campus and its resources, to faculty-developed research apps to the development projects from our very own App Center - there is something for everyone. Explore the apps below and download your favorite today!
---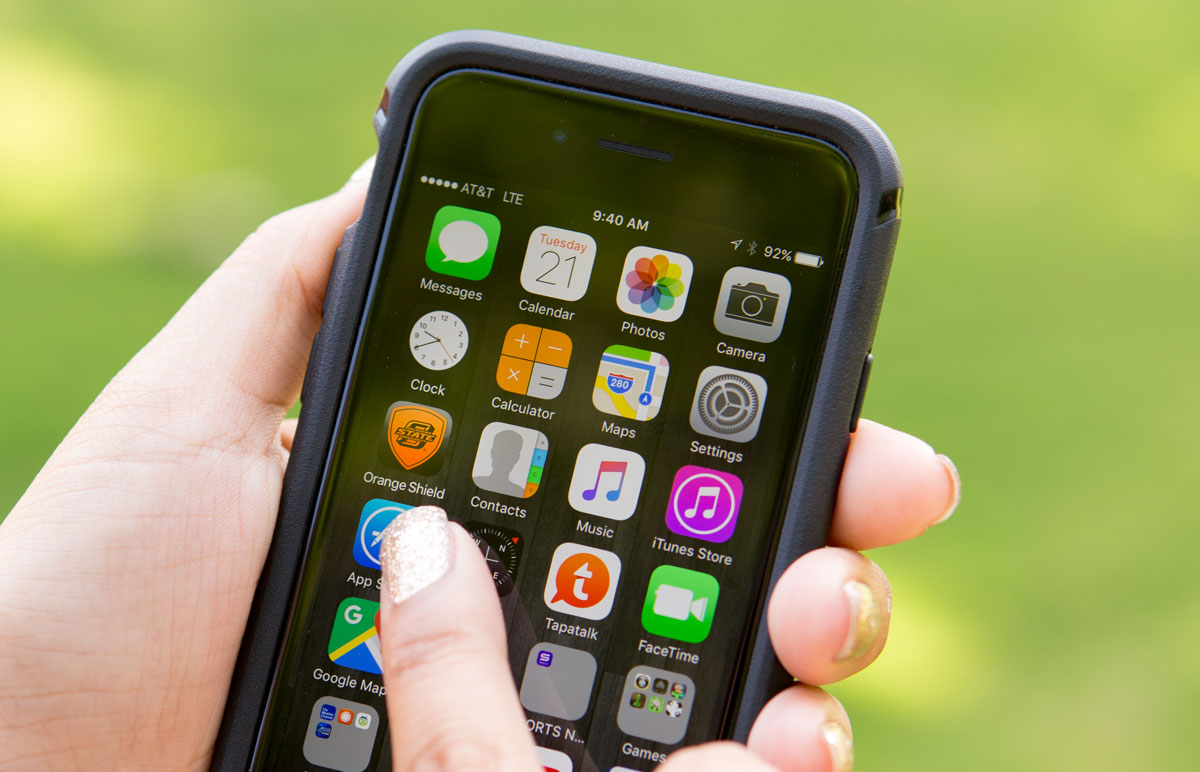 OState
Your mobile link to OSU
Whether you are an OSU student, member of the faculty or staff, a visitor, alumni or a Cowboy fan, OState is your on the go source for all things OSU.
Orange Shield
Your official safety app at OSU
If you're in a dangerous situation, use the Orange Shield application to quickly and easily contact university safety forces.
Orange Connection
The app for you to stay loyal and true
Never feel disconnected from OSU again with Orange Connection. Read up on the latest campus news, or find an OSU alumni event to attend near you. Alumni members can also access a mobile membership card, access benefits and discounts on the go, and purchase a membership in two easy steps.
Cowboy Legend
Helping you discover what it means to be a true cowboy
The Cowboy Legend app allows OSU students to explore campus and complete more than 80 traditions to enhance their OSU experience. The app also serves as a digital scrapbook chronicling your time as an OSU student.
Oklahoma State Athletics
Keeping you up to date on your favorite Cowboy and Cowgirl sports
The Oklahoma State University Athletics app is your comprehensive mobile companion for following the Cowboys and Cowgirls.
FAPC Connect
Providing you food-safety info on the go
The Robert M. Kerr Food & Agricultural Products Center now supports you on the go! FAPC Connect's mobile application allows you to interact easily with content and experts, all on the go.
OSU Research
Connecting you to all things research at OSU
This OSU Research app is the quick reference and informational app for all faculty, staff, students and alumni of Oklahoma State University's research environment.
Other OSU developed apps
Have a great app idea? The Oklahoma State University App Center is an on campus resource for mobile app development. The center helps individuals build their app ideas and provides grant funding for development.
---
OKState N Rate Calculator
Using this app, you can enter GreenSeeker sensor data into the calculator tailored for many different crops and regions, and get reliable mid-season fertilizer N rates that will optimize farmer profits.
Protein Optx
Optimize your wheat grain protein using topdress fertilizer N recommendations from OSU based on NDVI data.
Rx Burn Tracker
This app allows the user to monitor fire effects and keep track of prescribed burns.
Wheat SBNRC
Sensor based nitrogen rate calculator for winter wheat.
Wildlife Food Plots
This app identifies food plot forages than can be planted for wildlife management.
Plant Nitrogen Recommendations
This app contains a database of SPAD, atLEAF, and Leaf N concentration values for various horticultural crops to be used as a reference for determining plant nitrogen status based on chlorophyll sensor or foliar analysis values.
Oklahoma State 4-H Roundup
Oklahoma State 4-H Roundup is a youth conference for 4-H Members ages 13 – 19 and is held on the Oklahoma State University Campus.
Canopeo
Use this app to quantify the percent canopy cover of live green vegetation for any agricultural crop, turf, or grassland based on downward-facing photos taken with your mobile device.
Poinsettia Care Tips
This app is designed to assist homeowners with care of their potted poinsettias.
Ammonia Loss
Accurate estimates of ammonia volatilization losses from surface applications of urea in agriculture.
Crop Nutrients in Irrigation Water
With the input of laboratory results and an expected irrigation by the user this app will provide an estimated amount of nutrients delivered with every acre of water applied and total pounds per acre per season.
FARRM Game
The FARRM Game teaches users about price and risk management using data from Oklahoma farms and ranches.
NPK Field Guide
Oklahoma Nutrient Management Field Guide App is a mobile version of a printed handbook.
IFSTA Interactive Dictionary
The IFSTA Interactive Dictionary contains over 7,500 terms from the IFSTA Library. Master fire service terminology by creating flash cards and quizzes.