Junior Day
Saturday, April 10, 2021
1 p.m.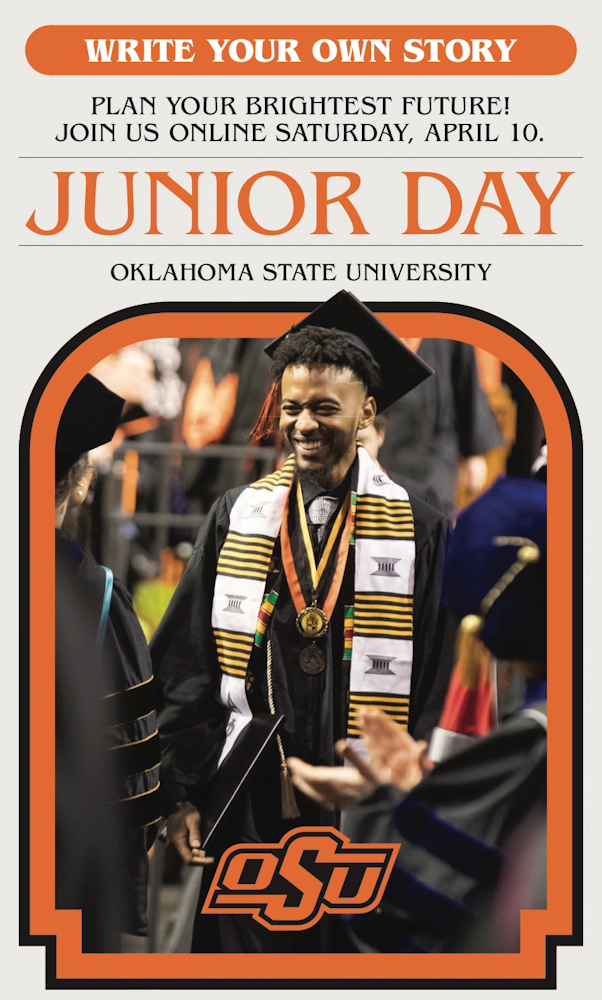 YOU'RE THE STAR OF THE STORY.
We're taking Junior Day online! You're nearing the end of your junior year of high school, and soon you'll be a senior. Now's the time to start making choices about which colleges you want to apply to and what majors you'd like to consider.
EXPLORE ENDLESS POSSIBILITIES.
Join us online for Junior Day on Saturday, April 10, and we'll tell you more about the opportunities available to you at Oklahoma State University and show you how the members of the Cowboy family are writing their stories every day.
What happens next?
Event
Time

Event

Welcome & Overview of Event

Time

1 - 1:10 p.m.

Event

Becoming an OSU Cowboy &

Understanding College Financial Aid

Did you know you can apply to OSU as early as July 1 after your junior year? Your application timeline is just one of the things you'll learn about as our admissions counselors share how you can put your best foot forward and maximize your scholarship opportunities at OSU.

Time

1:15 - 1:45 p.m.

Event

Life as a College Student

Transitioning from high school to college is easier and more exciting when you take advantage of all of the resources OSU has to offer. Our admissions counselors will give you all the tips and tricks to get you started and current students will share what their lives are like as they write their own stories at OSU.

Time

1:50 - 2:20 p.m.

Event

Academic Sessions

With over 200 majors, OSU offers something for everyone. Join an academic college session to begin to explore your passion. You'll hear from staff and current students about how your education at OSU can go beyond the classroom to research, internships and campus involvement. Not sure what you want to major in? Take the MyMajors assessment now to learn what might be a good fit for you.

Time

2:25 - 3:10 p.m.

Event

The Honors College

OSU's highly regarded Honors College offers small classes taught by some of the top teaching faculty on campus. Listen as Dr. Keith Garbutt, Dean of The Honors College shares how being a part of this unique opportunity is sure to feed your intellectual curiosity.

Time

3:15 -

4 p.m

Virtual Campus Tour
Want to explore campus? Try our self-paced virtual 360 tour of campus any time!