Nash Lucas
---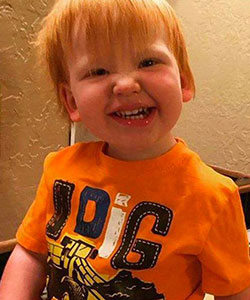 Oklahoma State University remembers those whose lives were lost in the October 24, 2015 parade tragedy. Though they are no longer with us, their memories live on in our hearts and within the Cowboy Family.
Nash was born April 24, 2013, in Weatherford, Oklahoma to Nicolette Danielle Strauch and Josh Tyler Lucas and passed away Saturday, October 24, 2015, at OU Children's Medical Center in Oklahoma City, Oklahoma. He and his mother, Niki, moved to Stillwater in 2015 where she was attending Oklahoma State University. Nash was a joyful little boy that enjoyed playing with his tractors, Paw Patrol, Barney, and Bob the Builder. He loved singing Itsy Bitsy Spider and his ABC's. His favorite songs were Watch Me Whip and Shake It Off, or just about everything that came on the radio.
Nash is survived by his mother, Niki Strauch of Stillwater, Oklahoma; his father, Josh Lucas of Oklahoma City, Oklahoma; maternal grandparents, Charles and Carie Strauch of Weatherford, Oklahoma; maternal great-grandparents, Donna Wininger of Weatherford, Oklahoma and Louise Strauch of Houston, Texas; paternal grandparents, Brandon and Stephanie Lucas of Weatherford, Oklahoma; paternal great-grandparents, Delores Love of Weatherford, Oklahoma and Billy and Pat Thompson of Canton, Oklahoma; sister, Ava Lucas of Benton, Arkansas; and numerous aunts, uncles, and cousins. He was preceded in death by his great-grandfathers, Conrad Wininger and Charles Strauch Sr. and great-grandparents, Darrel and Sherry Lucas.