Environmental Science, Professional Science Master Option, MS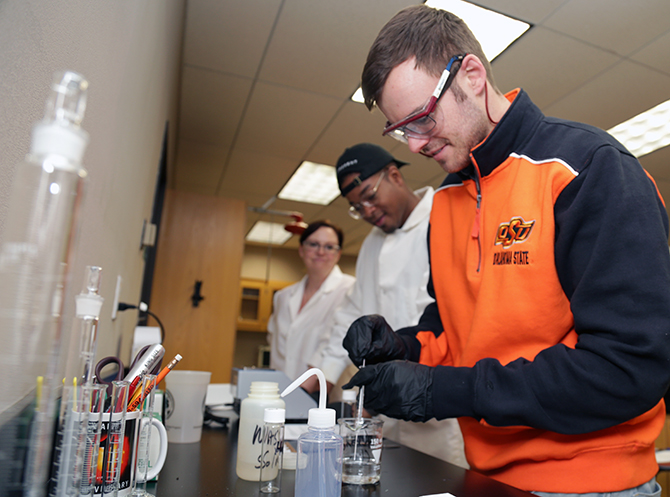 What is the Environmental Science Professional Science Master's (PSM) option in Environmental Management?
Why Environmental Management?
Professional Science Master (PSM)
At OSU-Tulsa, we offer the Professional Science Master Degree Program (PSM) in Environmental Management. This non-thesis degree program has been approved for affiliation as a PSM degree by the Commission on Affiliation of PSM Programs and is the first of its kind in Oklahoma. The Professional Science Master Degree Program differs from other ESGP degrees by providing students a springboard to industry-specific job opportunities. With its regulatory emphasis, the PSM program places high importance on practical problem solving rather than on research; those who plan to pursue a doctoral (PhD) degree are strongly encouraged to apply for our traditional MS degree which results in a thesis.
Curriculum
Master of Science, option in Environmental Science Management Professional Science Master (PSM): A non-thesis, industry-focused degree recognized by the Commission on Affiliation of PSM Programs (PSM National Office). All PSM students are required to enroll in ENVR 5303 Issues in Sustainability: 3 credits. (Taught only in Fall semester.)
ENVR 5503 Environmental Management Practicum: 3 credits. Prerequisite: 18 credit hours.
ENVR 5123 Environmental Problem Analysis: 3 credits. (Taught only in Spring semester.)
ENVR 5510 Environmental Management Internship: 3 credits. Prerequisite: 5503 and consent of advisor.
Natural or Physical Science (21 hours)
Graduate students in the Environmental Management PSM complete 33 credit hours which include 12 hours of required core courses (see below), approved science electives, and an internship that requires spending 240 hours with a company or organization approved by their committee. In lieu of a thesis, the student completes an internship. This experience equips students with practical, hands-on experience for their careers.
Advisory Committee
The Advisory Committee will consist of at least two departments and least two different graduate faculty groups. Four faculty members are on the committee. The outside committee member is to represent the Dean of the Graduate College and must be a full member of the Graduate Faculty
.The outside member may not be from the same department as the Chair. Students create their Plans of Study with the assistance of their advisor and committee. It must be completed prior to completion of their 28th credit hour. For more information about the Plan of Study, refer to the Graduate College.

Admissions
All students are required to have completed college-level courses that address the fundamentals and principles of chemistry, biology, and algebra prior to admission. When the letter grade earned in a prerequisite course is less than "B", the prospective student may be asked to retake the course or take another that will prove proficiency.
Application Requirements

Prospective students applying to the Environmental Science Graduate Program complete an online application with the OSU Graduate College that includes the following:

A non-refundable application fee.
One original transcript from each college or university attended. For PhD applicants, the cumulative grade point average (GPA) of each previous degree must be 3.0 or higher. All transcripts should be scans of official transcripts showing the college's or registrar's original seal and any degrees completed.
TOEFL/IELTS (if required to establish English proficiency). A minimum iBT TOEFL score of 79, or a minimum IELTS overall score of 6.5 is required.
Current and complete resume or Curriculum Vita. For PhD applicants, this should include the citation of the completed Master's thesis.
A Goal Statement (1-2 pages) explaining how prior academic and professional experiences have prepared the applicant for graduate-level study and how the degree program will contribute to the applicant's career aspirations and desired areas of competency.
Three letters of recommendation. These should be from individuals who know the student professionally, including academic advisors and former professors who can address applicant's academic record and potential for successful graduate-level work.

An Agreement to Advise Statement from an OSU faculty member who will serve as the student's advisor and Committee Chair; this can be in the form of an email from the advisor to

esgp@okstate.edu

. A list of

faculty with environmental science research interests

is available under the "About Us" menu item. Applicants can be provisionally admitted with a temporary advisor, with the understanding that a permanent advisor must be identified to continue in the program. (Applicants to the PSM program are advised by

Dr. Ken Ede

Application Deadlines

Spring - September 30th

Summer – January 30th

Fall – April 30th
Research and faculty highlights:
OSU-Stillwater Faculty with Environmental Science InterestsFeatured Research