Curriculum
Degree completion requires a minimum of 36 hours beyond the bachelor's degree, including required coursework, coursework taken in the emphasis area and electives. Pre-requisites may apply. You can choose from a thesis or non-thesis option and may enroll full time (six credit hours) or part time. Courses vary in delivery format (online, face-to-face and hybrid) and are offered on both the OSU-Stillwater and OSU-Tulsa campuses with evening and weekend options for maximum flexibility for working professionals.
Coursework areas of emphasis include:
Art education
Children's & young adult literature
Curriculum education
English education
Foreign language education
Reading & literacy education
Mathematics education
Science education
STEM education
Social studies education
Special education
Graduate teaching certificate coursework for alternatively certified teachers
Research and Faculty
We have more than 25 faculty representing the following areas and research specializations:
Curriculum Studies faculty expertise includes K-20 curriculum theory and development, teacher research, diversity curriculum and culturally sustaining pedagogies, media literacy and nonviolence and mindful education. Meet our faculty.
Reading and Literacy Education faculty research includes writing instruction and writing teacher education, diversity in children's and young adult literature and intersections of literacy and technology in the classroom. Read more about our faculty expertise.
Science and Mathematics Education faculty expertise includes research experience for teachers, outdoor education and place-based learning, STEM Education, teachers' beliefs and connection to student achievement, geoscience and engineering, mathematics identity, mathematical thinking and teacher professional development. Meet our faculty.
Secondary Education research includes social studies education, Holocaust education, media literacy education, content area literacy and writing, place-based education, online teaching and learning, intercultural sensitivity, social media tools in education and second language teaching and learning. Meet our faculty.
Special Education research includes studying the effect of function-based interventions on student behavior and the transition into adulthood for students with disabilities. Learn more about our faculty .
Admissions
Applications are accepted on a rolling basis. Students are encouraged to submit application materials at least six weeks prior to the start of the semester.
To apply to the Teaching, Learning and Leadership - option in K-12 Education, MS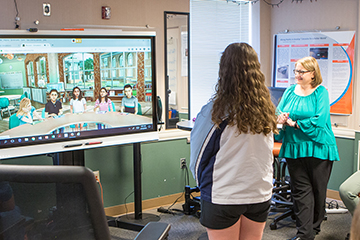 program, submit the following:

Transcripts from all previously attended institutions (3.0 minimum undergraduate GPA required for unqualified admission)

Current resume/vita

Personal goal statement (500 words)
Cost & Assistance
We strive to support graduate students financially and academically through the options listed below.

Currently enrolled students are also eligible for scholarships offered through the College of Education and Human Sciences.