Student Personal Health Responsibility
The following outlines expectations of all OSU students while on campus. This is not only to protect your health, but the health of our entire community. Your continued support of these guidelines is appreciated.
Sick students must not go to class on-campus.
Self screening should be performed each morning before arriving on campus. Temperature must be less than 100.4⁰ F/38⁰ C. See self-screening checklist.
Maintain social distancing guidelines.
You are also expected to wear a face covering if you are near or are encountering others. Failure to comply with the university's expectation to wear face coverings is considered a policy violation and will be addressed through the Student Conduct. See more on face covering guidelines.
Wash hands regularly with soap and water for at least 20 seconds. Keep a supply of hand sanitizer (as possible).
Cover your cough or sneeze with a tissue and then throw it away. Wash your hands afterwards.
Disinfect all high-touch areas in your living area on a regular basis. Do not touch your eyes, nose, or mouth with unwashed hands.
Any OSU student who chooses to attend a large off-campus event or gathering without safety measures in place must quarantine for 14 days and get tested for COVID-19.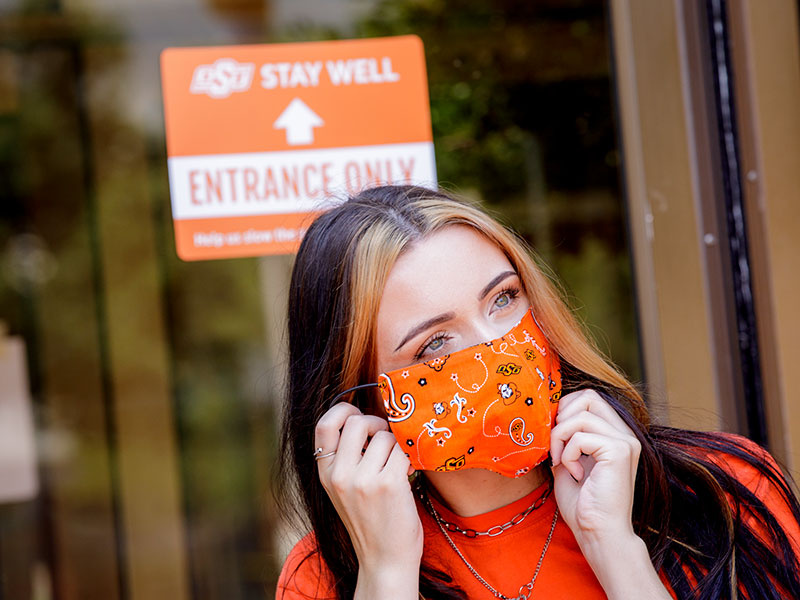 All OSU students must wear a face covering (mask) upon entering any campus building. It's important that OSU is a safe place to work and study, and taking this step creates a safe environment for all of us as advised by the CDC.
Student Organization Events
Fraternity and Sorority Life