Curriculum
The Master of Arts in Teaching is a 34-credit hour graduate program, consisting of common core curriculum, secondary science specialization and an internship. The objectives are to develop secondary science teachers who:
Understand the roles and responsibilities of teachers to manage a diverse classroom
Have the ability to design and implement curriculum that addresses the needs of all students, including students with special needs and linguistically/culturally diverse students
Are equipped with a variety of instructional and assessment strategies to meet the needs of diverse learners
Obtain increased confidence to teach in secondary science classrooms through high-quality field experiences

Have experience conducting STEM research and mentoring students in inquiry-based learning
Learn more about our science and mathematics education program
Research and Faculty
Dr. Julie Angle, associate professor of science education, is recognized by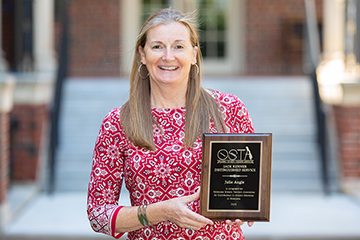 the Oklahoma Science Teachers Association for her significant contributions to the advancement of science education in the state. She is committed to providing her students with extensive hands-on research and learning opportunities, including presenting at national conferences. Angle is also the president of the National Association of Biology Teachers (NABT).

"The Master of Arts in Teaching program meets a growing need for excellent educators in Oklahoma and beyond. The coursework and field experiences are designed to prepare career changers for the classroom while offering the opportunity to gain an advanced degree."
- Dr. Adrienne Sanogo
Associate Dean for Academic Affairs, College of Education and Human Sciences
Admissions
Applications are accepted on a rolling basis. Students are encouraged to submit application materials at least six weeks prior to the start of the semester.
To apply for the program, submit the following:
Transcripts from all previously attended institutions (3.0 minimum undergraduate GPA required)

Current resume/vita

Statement of professional goals (500 words)

Passing score of 240 on the Oklahoma General Education Test (OGET)

Passing score on the Oklahoma Subject Area Test (OSAT) for one of the five science fields (Biological Sciences, Chemistry, Earth Science, Physical Science or Physics)
Cost & Assistance
The federal TEACH Grant Program may provide up to $4,000 a year to aid students seeking degrees in high-needs fields and who meet specific eligibility requirements. Students must sign an Agreement to Serve and acknowledge that if the terms are not fulfilled, the grant will be converted to a loan that must be repaid.


Currently enrolled students are also eligible for scholarships offered through the College of Education and Human Sciences.