Cleaning University Facilities
---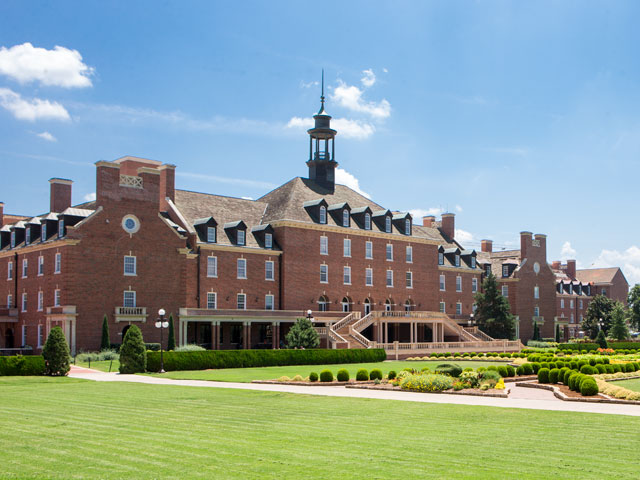 OSU Facilities Management's cleaning contractor, ABM Services, will continue to follow the guidance of OSU, local, and state health officials to continue with aggressive cleaning and disinfecting of our OSU facilities. ABM personnel wear protective equipment to protect their staff and others nearby while working. In addition to the continual regular cleaning, ABM also uses EPA-approved disinfectants frequently on common touch points including door handles, push plates, push bars; elevator buttons, stair rails, light switches, etc. Touch-point cleaning is done daily in campus buildings and multiple times daily within areas of increased-use or higher risk.
ABM maintains an appropriate quantity of EPA-approved disinfectants and approved cleaners to satisfy the expected campus demands for the foreseeable future. ABM locally stores adequate alcohol-based hand sanitizer and replacement wall-mount dispensers to refill the currently installed hand sanitizers.
Facilities Management (FM) will soon possess and use electrostatic and hydrogen peroxide vapor disinfection equipment for applying preventive disinfectant coverage to targeted areas. FM is working with several third-party professionals for preventive disinfection of large heavily used areas. If a suspected or confirmed-positive COVID-19 exposure occurs on our Stillwater campus, the first response should be to close off the area for forty-eight to seventy-two (48-72) hours to allow the contagion to expire. After the prescribed quiet time has elapsed, ABM can then enter the area to perform cleaning and apply disinfectants. However, if an emergency response is required, FM has several third-party professionals ready and available to treat or remediate campus locations. Each vendor uses approved methods which are appropriate for the type of exposure and type of environment, whether office, classroom, restroom, student housing, etc.
FM's Operations and Maintenance group is completing regular preventive maintenance on air handlers for central building air conditioning systems to ensure they are operating properly bringing in outside air, replacing air filters and cleaning the coils. Where feasible, FM is installing upgraded air filters within buildings to filter out even finer particles from the circulated air. Domestic water main lines, building water lines, drinking fountains and water heaters for buildings of low or no use are being flushed to bring in fresh chlorinated water to the campus buildings. Facilities Management is responding to campus requests for social distancing floor markers, sneeze guards and other interior and exterior signage.
Facilities Management is working with appropriate campus representatives to develop safe and effective cleaning and disinfection recommendations and for additional ways to improve safety such as limiting classroom capacities and number of elevator occupants.
OSU is providing health and safety materials and supplies for the campus. Eight disposable surgical masks are being provided to all OSU full-time employees. Two washable cloth face coverings are on order for all OSU full-time and temporary employees and one washable cloth face covering for all students.
2 oz bottles of hand sanitizer will be provided for all OSU employees and students and 16 oz bottles of hand sanitizer are on order for department use. New stands for dispensing hand sanitizer and disinfectant wipes, and refills are on order. Ten voluntary walk-up temperature monitoring stations also are on order.
Facilities Management is making and installing social distancing markers for floors, stairways, entrances and elevators.