Colvin Recreation Center
---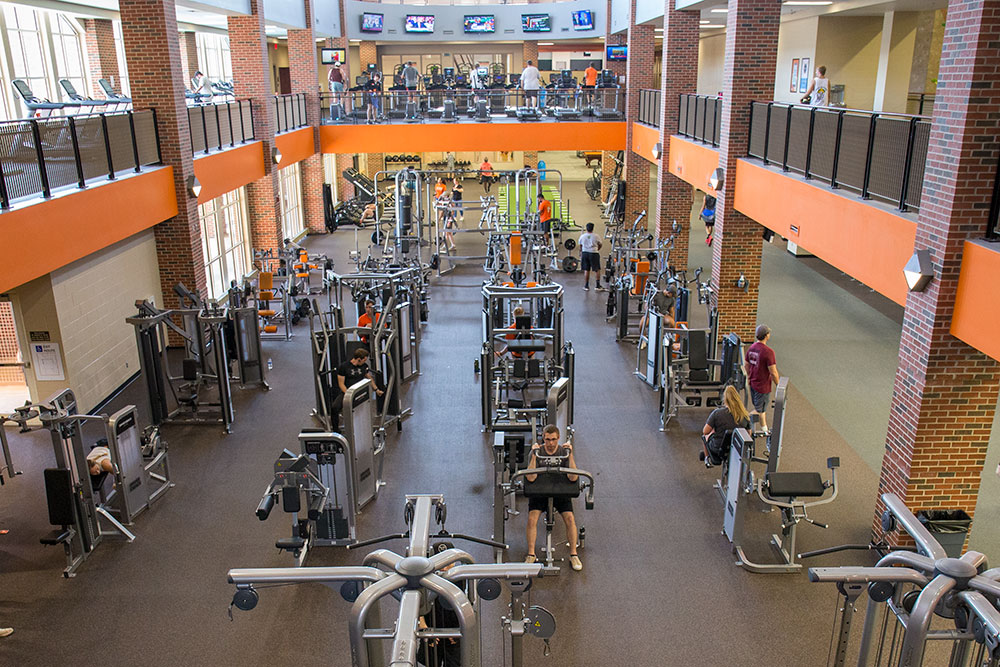 The following areas are open in the Colvin Recreation Center
Cardiovascular Exercise Machines (Cardio 1 and Cardio 2)
Circuit Strength Area
Accessible Strength Area
Free Weight Area
Machine Weight Area
Functional Training Area
Restrooms
Locker Rooms
Outdoor Adventure Climbing Wall (by reservation only)
4-gym south (shoot-around only)

Racquetball Courts (limited 2 per court)

Colvin Business Office
---
Max Capacity
Total Colvin Center capacity is 180 patrons (not including department staff). Once max capacity has been reached, patrons will be admitted inside on a "1-out-1-in" basis. Individual areas also have a max capacity. Signage will be posted in each area indicating max capacity.
---
Group Fitness
In person group fitnss classes will be limited to classes that allow for social distancing. Virtual group fitness classes will also be available as live and prerecorded classes.
---
Sanitation Guidelines
Hand sanitizer (containing at least 60% alcohol) will be made available in all restrooms, locker rooms, check-in desks and customer-service desks. Housekeeping staff will continuously monitor and replenish the hand sanitizer stations throughout the facilities.
A minimum of 2 housekeepers will be on staff during all operating hours continually cleaning areas by zone as well as repeatedly cleaning high touch surfaces (handrails, door handles, push plates, etc.) multiple times daily.
EPA-registered disinfectant that kills the coronavirus in under 60 seconds will be used by cleaning staff.
Fitness floor staff will clean equipment continuously throughout the day including equipment touch points (I.e. seats, handles, bars, and pins).
Fitness floor staff will clean and disinfect equipment that patrons fail to clean after use.
Drinking fountains and refillable water stations shall be monitored, cleaned and disinfected at regular intervals by staff.
Patrons will be encouraged to bring refillable water bottles and limit the use of water fountains to refilling bottles.
All restroom surfaces including showers, floors, sinks and toilet bowls will be cleaned and disinfected at regular intervals during operational hours. Restrooms will be supplied with liquid soap and paper towels. Paper products will be stored in a closed dispensing cabinet and trash cans will be placed near the door or within reach of the door.
In preparation for the next day, housekeeping staff will perform a deep cleaning of the facility following operational hours.
---
Colvin Center Employee Guidelines
Employees exhibiting a cough, shortness of breath, or other respiratory symptoms will not be permitted to begin their shift. Employees with a temperature at or above 100.4°F and or displaying symptoms will be encouraged to consult a physician and be sent home until they are fever and symptom free for more than 24 hours.
All staff and patrons will be required to wear face coverings while entering, exiting, and moving about the premises.
Each student employee will receive at least two reusable face coverings prior to beginning their first shift. It will be the responsibility of the employee to launder their masks after each use.
Employees will be required to wear gloves when cleaning equipment. Disposable latex and non-latex gloves will be provided to every employee while on shift.
Personal trainers will be limited to training one client at a time and will be required to wear a face covering and disposable gloves throughout every training session.
---
Social Distancing
Each area of the facility will have capacity reductions to allow 150 sq. ft. per person (6 feet in any direction) in that area. This policy will reduce the original total facility capacity by greater than 50%. Signage will indicate the maximum capacity for each area. Staff will be assigned to each area to enforce social distancing and ensure the maximum capacity is not exceeded.
Directional signage will be posted throughout the facility to encourage social distancing. Patrons will be encouraged to follow all directional signage while entering and exiting the building.
Floor decals indicating 6 feet of distance will be placed on the floor in front of each check-in and customer service desk.
Each check-in and customer support desk will be equipped with a Plexiglas barrier between the customer service attendant and entering patrons.
Card reader machines will be positioned at the check-in desk to allow patrons to swipe their own card. Department of Wellness staff members will be discouraged from handling patron membership cards or credit cards. Employees will be required to wear protective disposable gloves when handling patron cards is necessary. Colvin members entering the building will be asked to swipe their own access cards.
Card readers and countertops will be wiped down and sanitized by the Customer Service Attendant every 15 minutes and the Plexiglas barrier will be wiped down every hour.
Cardiovascular exercise and strength equipment will be spaced no less than 6' apart to allow for appropriate social distancing in the exercise areas.
During the initial reopening, patrons will be provided a disposable face covering at the Colvin Center check-in desk if they do not have one.
Signage will be posted in all training areas and along the dumbbell racks encouraging patrons to maintain at least 6 feet of social distancing while exercising.
Disinfectant spray bottles will be located throughout the facility along with single use towels to wipe down equipment after use. Patrons will be asked to discard used towels into the hampers located beside every spray bottle station.
Note: Patrons will be permitted to remove their face coverings only while using stationary cardio machines.
---
Contact Tracing
In the event that a COVID-19 case is traced to Department of Wellness facilities:
Operations will immediately shut down, and follow university cleaning and contract tracing procedures. Facility re-opening schedule and capacity limits will adhere to university COVID-19 guidelines.
Upon request, a detailed summary of employees and patrons will be made available to campus public health representatives based on the days of possible exposure.
The Department of Wellness will follow all campus guidelines concerning contact tracing.