Guidance for OSU Employees
Health Guidelines for the OSU Campus Community
Personal Health Responsibility
The following outlines expectations of all OSU students and employees while on campus. This is not only to protect your health, but the health of our entire community. Your continued support of these guidelines is appreciated.
Personal Health Guidelines
Face Coverings
All OSU students, employees, and visitors must wear a face covering (mask) upon entering any campus building and when near or are encountering others. COVID-19 can be spread when people are asymptomatic, which means they do not know they are sick yet. Wearing face coverings has been shown to reduce the spread of COVID-19 to others. It is important that OSU is a safe place to work and study, and taking this step creates a safe environment for all of us as advised by the CDC. As a reminder, face coverings do not replace the need to maintain social distancing, frequent handwashing, and rigorous cleaning and disinfecting routines. This action is not about keeping you safe, it is about showing that you care about your fellow Cowboys and are doing your part to keep our campus community safe.
Face Covering Guidelines
Positive COVID-19 Case on Campus
We follow the guidance of national and local health officials in our response to a positive diagnosis on campus. If we receive confirmation that an OSU student or employee has had a positive COVID-19 diagnosis, there are important measures that will be promptly taken including quarantine or isolation, contact tracing, communication and facility disinfection. When a member of the OSU community self-reports they are symptomatic or tests positive for COVID-19, please contact University Health Services at 405-744-7287 immediately.
Learn more
Contact Tracing
Timely identification of potentially impacted individuals is critical during a public health crisis. OSU will use a range of methods for contact tracing to aid in notification of individuals at risk for COVID19. UHS will work in tandem with the Payne County Health Department to identify cases and respond accordingly. Select UHS employees are trained on the state and county's approach and technology for contact tracing and will be available to assist with those ongoing efforts. Leveraging existing campus technology, OSU has developed analytics to identify employee and student movement across the OSU campus via WiFi access points. This location data will be held in extreme confidence and shared only with leadership of UHS when cases arise for which location information is useful. Location data – not device content, which is not collected by OSU – will be stored for 7 days and solely used to aid in contact tracing. Additional data including class schedules, OSU ID card transactions and office or student housing assignments will also be used to assist health officials in this matter.
COVID-19 Testing
Oklahoma State University is offering free COVID-19 oral swab testing for students and employees at University Health Services (UHS) on the main Stillwater campus. The service will be by appointment to OSU students and employees. The oral swab tests, which are less invasive than nasal swab tests, will be administered by the OSU Center for Health Sciences under the covered driveway on the east side of UHS at 1202 W. Farm Road. To make an appointment, patients should call 405-744-7665 or login to your Patient Portal to schedule an appointment by 5 p.m. the day before they wish to be scheduled, making sure to note they are requesting testing on the Stillwater campus. Patients should bring their OSU Stillwater ID on testing day.
Learn more
Cleaning of University Facilities
OSU Facilities Management provides touch-point cleaning and disinfecting daily in campus buildings and multiple times daily within areas of increased-use or higher risk. OSU maintains alcohol-based hand sanitizer and replacement wall-mount dispensers to refill the currently installed hand sanitizers located throughout campus. Facilities Management will work to procure and distribute necessary cleaning supplies for individual departments.
Learn more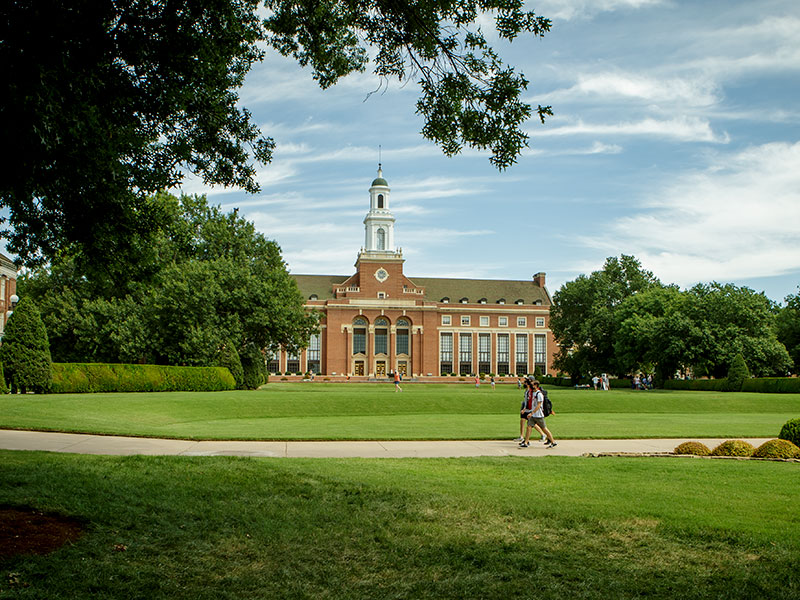 COVID-19 Dashboard
OSU has launched an online dashboard to track COVID-19 testing data on the Stillwater campus. The dashboard represents a commitment to keep the campus safe by providing accurate information on COVID-19 metrics monitored by medical and public health officials.
View dashboard
Campus Communications
The OSU Department of Brand Management has developed a communication plan to educate and inform the campus with regards to new safety protocols in place. This includes emails, website updates, campus signage, social media, videos and town halls to ensure the community is aware of social distancing, the use of face coverings, proper cleaning and hand hygiene and other COVID-19 protocols.
View announcements
Academic Delivery of On-Campus Courses and Support
Instruction
Every effort is being made for faculty to maximize in-person instruction for all students on campus this fall. It is especially important that many first-year classes be taught face-to-face with social distancing maintained. However, hybrid and online options may be used to accommodate challenges in scheduling. In all cases, faculty should remain socially distanced from students while teaching.
Laboratory groups of six or less that cannot maintain social distancing for pedagogical or safety purposes must wear additional PPE to provide reasonable health safety (e.g., face shields, gloves, surgical masks).
Class Schedule
The University will utilize the entire existing course timeframe from 7:30 am to 9:30 pm for MWF and TR courses. Nonstandard scheduled classes in general university and large college classrooms will be minimized. Common Examination periods will be eliminated.
Classrooms
Locations not generally utilized for classes will be used. Some examples include the Student Union ballroom, the Alumni Center, and the Watkins Center. Social distancing will reduce the capacity of traditional classrooms and using these alternative spaces will increase our ability to deliver face-to-face classes.
Assigned seating with seating charts will be required in all classes so that effective tracing of positive cases can be enhanced. Classes will be set up and maintained following social distancing guidelines.
Office Hours
Faculty will offer office hours online to eliminate crowding in offices and hallways. Students are asked to respect posted virtual hours of all faculty and Teaching Assistants. Teaching Assistants will be providing recitation sections and virtual office hours to work problems and answer questions.
Pre Finals and Finals Weeks
In-class instruction and in-person exams will be completed by Thanksgiving break:
During Prefinals week (Nov 30 – Dec 4), lectures and reviews will be offered virtually.
During Finals week (Dec 7 – 11), exams will be offered online and synchronously, with proctoring in order to minimize academic integrity concerns.
On-campus services and project labs will remain open for students.
OSU fully intends to have in-person classes on campus for the spring 2021 semester.
Commencement
Commencement ceremonies for 2020 spring, summer and fall graduates will be held virtually this December.
Learn more
Library
Library business hours will be reduced during the fall semester to allow time for overnight cleaning and sanitizing. Furniture in public spaces will be arranged to ensure appropriate social distancing and barriers or shields will be erected to allow more than one user at library tables. When possible, library services will continue to include options for users who are unable to come into the library. For example, curbside pick-up for books and library laptops and chat reference assistance. The Library Browsing Room and Reading Room will not be available for events or public gatherings until social distancing requirements are no longer in place.
Graduate Students
In-person defenses are anticipated to return in fall 2020. A virtual format may be used as necessary with notification of the Graduate College. Guidance for virtual defenses is provided in the Best Practices document in the Graduate Faculty Canvas Community. This format still requires all advisory committee members participate or be replaced with available Graduate Faculty members. Non-coursework Exams (e.g., qualifying, preliminary, comprehensive) are typically for a very small number of individuals at a time and may easily accommodate social distancing guidelines. In-person, online or virtual formats are still acceptable and should take individual concerns of faculty, staff and students into account. Individual Degree Completion Plans are available from Graduate Program Coordinators to document changes in the time frame and resource needs due to associated pandemic disruptions. Additional information may be found on the Graduate College website.
Learn more
Honors
One of the fundamental aims and promises of Honors courses is they provide undergraduates in the Honors College significant opportunities to interact with outstanding faculty in a small group environment. In light of this, except when dictated by health and safety reasons, all Honors classes will be delivered face-to-face or in synchronous mode. Honors students who, through the action of the University, are unable to meet the normal hours required to remain active in Honors will automatically be awarded active status.
Study Abroad
The U.S. Department of State issued a Global Level 4 Travel Advisory on March 19, which advised U.S. citizens to avoid international travel of any sort. It is not clear at this time when the State Department travel advisory will be reduced. With this in mind, no faculty-led study abroad programs will be allowed prior to Nov 1, 2020. This restriction will be revisited by August 30, 2020 to determine the risk associated with fall break, winter break or spring 2021 programs.
OSU will also suspend its student exchange programs until the Spring 2021 semester, except in very rare cases. Please contact the Office of Global Studies and Partnerships for more information.
Research
Research at OSU has continued with adjustments for social distancing and personal protection. Detailed information is available on the research continuity website.