Shrum's journey
Finding time and grace as a working mother
---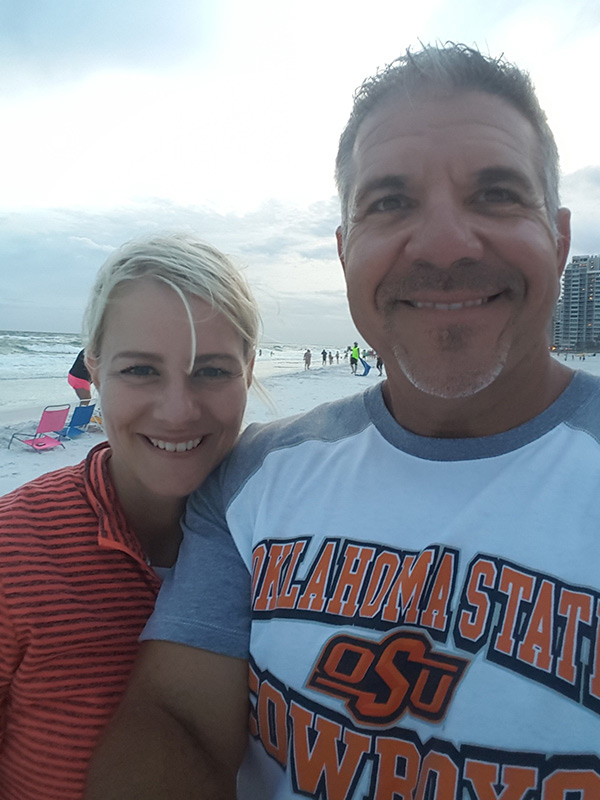 People today are hard pressed to imagine Oklahoma State University's first female president as anything but the celebrated doctor and leader she has become. But like many young women, the mother of six was once a newlywed unsure about the future.
Dr. Kayse Shrum, who plans most every minute of her hectic days because she must, at one point in time, left much of her life to chance. That's how she met her husband.
She doesn't remember what she was looking for when she went to that Broken Arrow Walmart, but that's where she found Darren, who was training to be a manager and visiting stores around the region.
"He was standing at the front door, greeting people and I guess looking for his future wife and he found me," Shrum said. "That was 29 years ago."
About five years into their marriage, the couple decided they wanted a big family. After several miscarriages, the Shrums decided they would pursue adoption.
Then, while on vacation, Kayse had some good news for Darren — she was pregnant again.
In the winter of 1996, while in medical school at OSU's Center for Health Sciences, Shrum gave birth to their first child, Colton Shrum. The two later had a daughter, Kyndall. Then Shrum became pregnant again, eventually giving birth to their second daughter, Karsyn.
Early on, Darren said, the couple's job demands made it tough to take care of all three kids. But they managed.
"I am not really sure how it all came together," Darren said. "It was kind of like constant chaos, but it just worked."
The Shrum household stayed busy, and the kids were involved in athletics at an early age. Shrum, who had earned a softball scholarship to Connors State as a pitcher, started out coaching Kyndall on the finer points of the game while Darren, a two-time national champion with the University of Central Arkansas, taught them the game of football. For Kyndall, it was a great opportunity to learn the sport of softball, but it was also cherished mother-daughter time.
"I think it was almost easier for her to be my coach than someone else because I am one of those people who likes constructive criticism and I like to be pushed," Kyndall said. "She is my mom, so she isn't afraid to tell me to fix it and give me the constructive criticism that I needed."
The Shrums were content. Kayse's career had taken off. Shifting from private practice to the academic realm, she became a professor at OSU-CHS, and Darren had left the corporate world to pursue entrepreneurial endeavors, opening up more time to spend with the kids.
Then some family friends told the Shrums about their experience adopting children from Ethiopia. Kayse and Darren agreed they would try to adopt boys who were between the ages of 10-14 because that is how old their three children were at the time.
They called a family meeting with Colton, Kyndall and Karsyn, who all agreed to expand their family. Darren soon traveled more than 8,000 miles to the Ethiopian capital, Addis Ababa. From there, he traveled with his guides to an orphanage on the Sudan border.
Darren called Kayse back in Oklahoma, telling her he had found Joseph, a boy they had seen in a video from an adoption agency and another little boy named Kilientn (pronounced "Clinton"), and he was coming home.
Before he came back to the U.S., Darren stopped by one more orphanage in Addis Ababa. There he saw Kason, who was about 10 years old and revered by all the kids in the orphanage.
He had lived in the orphanage almost his whole life, but Darren told him that was about to change, and Kason would be joining Joseph and Kilientn as part of the Shrum family.
It wasn't smooth sailing, though.
While filling out the mountain of adoption paperwork, the Shrums got a call about Kason. There was a problem.
"They had closed the orphanage and had lost the paperwork on where they had transferred him to," Darren said. "So Kayse and I were devastated. We thought, 'Oh my gosh, now this kid thinks we are coming to find him, and we're not.' That is what bothered us the most … because I had made a promise to him that we were coming to get him."
Meanwhile, Joseph and Kilientn had arrived in the U.S. and joined their new family. It was an extremely challenging transition for the boys, especially getting up to speed in school.
However, they had the support of their new parents, which lessened the culture shock. Even with all of the mounting demands on her time, Shrum always found time to help.
"She was basically my second teacher," Kilientn said. "It made high school so much easier. She knew everything and exactly what to help me with."
After a couple of years with Joseph and Kilientn, the Shrums received word that Kason had been located. The adoption agency asked if they still wanted to adopt him.
"We had to think about it for a couple of days. Everything was working well. The five kids were all getting along and the boys were comfortable here," Darren said. "They communicated well and were already in school. Things were going pretty smooth."
So Darren deferred to Shrum and her exact words to him were: "Darren, if it was Judgment Day and God said, 'Why didn't you bring that young man home? I gave you the means, everything you needed.'"
And that was that. Nearly four years after first meeting Darren, Kason arrived in Oklahoma. The Shrum family was finally complete.
"I always tell people that, as we started that process, we really thought we wanted to open our home and bless these kids and provide them with this family," Shrum said. "Honestly, we have been blessed beyond measure."
"I wouldn't change it for the world," Kyndall said. "They are my brothers and have always been my brothers, it just took them a little longer to come home."
With all six kids in high school or close to that age, the Shrums were back in controlled chaos mode. Joseph, Kilientn and Kason all started playing sports just like their siblings, so between that and FFA livestock shows, the family almost never spent a weekend at home.
Now, all six kids are in college, with Colton and Kyndall set to graduate from OSU on Mother's Day weekend.
Even now after being named OSU's 19th president, Shrum still finds time to wear all the hats required of a mother of six, telling current OSU President Burns Hargis that while it has been hard, she wouldn't change anything.
"I recognize it is a challenge and it is not easy to have a family and have a career," Shrum said. "I would just say that I hope [my appointment] inspires all of those women, young and old, to dream big. If you want to have a family and a career, it is possible."
And don't forget to give yourself grace, she said.
"You are doing enough. Cut yourself some slack. Dream big and go after those dreams."
- Kayse Shrum